It is always a pleasurable experience. The staff is caring and professional. Dr. Roche and Emily Way, PA-C are exceptional injectors! I feel refreshed and less tired looking after my injections. Their work is beautiful and very natural looking.
Very friendly office, service was very professional. Emily was informative and very pleasant. Highly recommended!
Always a pleasure dealing with Dr.Roche and staff!
Down-to-earth friendly knowledgeable and gentle.It is always a pleasure coming here
A very pleasant experience clean waiting room personable attention soothing music gentle approach no downtime
Everyone is so kind and caring it was such an amazing experience! Every experience has been exceptional! Will continue to return such a lovely place!
Dr Roche is great. All the assistants were so nice. I'm very pleased
Prompt caring and attentive response from Dr.Roche and team.
The same goes for Jennifer! Just as professional,sweet and caring. Such a wonderful team at this Spa!!
If I could I would give Emily "10" stars. This was my first time doing this procedure.She is just so nice,professional,calming as she explains the process. Highly recommend her!!
Kristina is an incredibly skilled technician, not to mention an amazingly warm person. Highly recommend!
the consultation was very thorough and gave me a lot of options to consider; it was a pleasure speaking with Emily who took the time to listen to my concerns and she walked through solutions that were not intimidating and that could be approached in slow steps to make sure that I was getting results that I want in a way that is comfortable for me.
I called yesterday because I remembered that last time my eyes were swollen for day. It happened again so I called. Waiting for a call back. But Emily and the staff is great
Kristina (and the entire Elizabeth Roche Medspa practice) is the best. I will never get a HydraFacial anywhere else.
Always a pleasure working with Dr Roche. Very informative, up front and honest… Everyone explains the process and expected results …..as well as the cost. No surprises which I so appreciate. All decisions are made together I do have to add that maintenance products that are offered are wonderful! I have been using Dr Roche's cleansers, eye are, serums. Moisturizers for over 2 years. Seeing amazing results. They are a must!! Joan Auerbach
Always wonderful and my skin Looks and feels amazing!
Dr Roche and her staff are always a pleasure to see and professional in what they do.
Wonderful experience. Staff is knowledgeable, kind, and respectful of patients' time. Kristina is terrific – engaging, helpful and skilled. I've only had one treatment so far and am looking forward to more.
Dr Roche and her staff are always profess, kind and pleasant Great service
Emily was great! She gave me a ton of information and made me feel really good about booking an appointment for fillers. Really looking forward to working with her and Dr Roche.
Looking forward to including the cream into my routine.
While it was not relaxing and I was nervous, Emily was amazing at explaining what was happening and making sure I was comfortable…I can see the fruits of the process and everything is happening as explained…very happy with where things are headed…
Emily made the experience very comfortable and was very professional. She made me feel I was in great hands. She definitely knows what she is doing and was informative and took the time to answer all my questions.The staff was also really nice. The place is very clean which is also important. Overall great experience.
Dr Roche does amazing work! My undereye filler looks fabulous. I had zero bruising after.
She took the time to listen and acknowledge my concerns before giving me her professional opinion.
Dr. Roche is the consummate professional, as is everyone in her office. It's a pleasure being treated by Dr. Roche.
Kristina is so kind & really helping my skin get back on track. She has steered me in a great direction & is super informative.
Kristina is amazing and always informative about the procedures.
Dr. Roche is so thoughtful in understanding my concerns and implements the most effective procedures.
What an amazing experience! The second you walk in the door the friendly staff welcome you in. Kristina was excellent, she talked me through the entire process and what she was going to do and use on my face. I felt very comfortable with her and will definitely be coming back!!!
As usual my experience at Med Spa is top notch. The woman there are astounding and they all function within their roles to the utmost. The other thing i always like to mention as kudos to them as well … is that they are superb at getting -and might i say juggling for what you want and need within a modest budget. See ya soon !
Such a refreshing personality. Very professional and answered all my questions. She is a pro and a sweetheart.
Kristina was very personable and knowledgeable about her profession and was very happy to answer questions and address concerns
Dr. Roche is the best!!!!
Had a great consultation. Emily was very professional and not aggressive and made me feel very comfortable about all of my options. I did book as procedure right after the consult .
Dr. Roche is amazing! Had the Ultherapy procedure and she made it painless!! I highly recommend this treatment be performed by Dr. Roche. Best decision I ever made and so happy to have been in the care of this team!!
Dr Roche and staff are wonderful, she knows just how to place the filler where you need it. I would recommend this spa to everyone, when u walk in your comfortable right away and when you leave trust me u look great !
Dr Roche was very informative and answered all my questions. She gave me all of her thoughts and options- I'm looking forward to coming back!
Kristina is amazing! She is so talented at what she does and always an absolute pleasure to have an appointment with!
Kristina was amazing-I had to bring my 5 month old baby and unfortunately she had woke up from her nap and was inconsolable. Kristina was such a trooper and was helping me distract her while doing my facial-talk about multitasking! I ended up having to nurse the baby while Kristina performed the facial and even with all of this going on, she was able to deliver such incredible results! My skin is much more smooth and even toned. I can't wait to come back for my SkinTyte procedure-I'm seriously hooked!
Absolutely amazing!! I have had many facials in other spas but Kristina made this experience the best. She explained what she was doing very well, answered all my questions. Was cautious being I am allergic to many chemicals. I highly recommend Kristina as well as the Elizabeth Roche MedSpa
Always a super and professional experience
She is so good at what she does !
Dr. Roche is so attentive, thorough, and kind. I am very pleased with my experience. Her staff are also amazing.
From the moment you walk through the door you are welcomed with such warmth and a caring staff, to Emily, whose expertise is always right on. I am always thrilled with my results. Whatever procedure she provides she is always making sure that you are comfortable with every step of the process. I HIGHLY recommend Dr. Roche's Medspa. Thank you Emily, Laura, Kristina, and all the staff! You are the best!
Kristina always make me look great. I had SkinTyte on my face and the treatment gave me an instant brow lift! I then had a Hydrafacial and my skin is still glowing days later. Kristina is an amazing esthetician. The entire staff is professional and friendly. I highly recommended The Elizabeth Roche Med Spa!
Emily is absolutely the best!!
Haven't seen results yet of course but so far very happy!
Jennifer was friendly and caring as we prepped.
Emily was informative and explained the whole procedure as I was undergoing it. This really helped reduce anxiety
Kristina is a consummate professional
Very knowledgeable and explained all well.
Kristina is always prompt, upbeat, detailed in everything she does and always provides insightful information about treatments and options to safely care for my skin.
Kristina always does an awesome job!
Kristina is amazing!! Takes time explain each step, makes you feel very special!!!
Emily is excellent. She is A skilled professional who truly cares about the best interests of her patients!
Jennifer was a true girl scout, had it all planned out, got me comfy, made the whole thing seamless and was truly resourceful when I found myself really congested–she had some great tricks up her sleeve to make me very comfortable throughout the whole process! real gem!!!
Emily is a master at making people feel comfortable and understanding how put people at ease when doing some crazy (sometimes painful) stuff in the pursuit of eternal youth–we had some laughs and hopefully some great results and I did not feel a thing (except a few times LOL)
I was very happy with the service Emily provided. I felt she understood my concerns and helped address them in the best way possible. She was very thorough going over the procedure with me. I was in expert hands. 5 plus stars!
Emily never disappoints! She takes her time with you and really listens to your concerns. Emily also guides you to what other services would benefit you. Looking forward to my next visit. The whole staff is very welcoming and makes you feel special.
Everyone working at the spa is very knowledgeable and kind. I was comfortable and felt well cared for before, during and after my treatment.
I have been seeing Emily for several years now and each time I come to the office she is very friendly, very informative and extremely capable of performing everything I want to do that day! I can't wait for my next visit!
I am so happy with the results and the service. Emily always makes me feel so comfortable and at ease. She checks in to make sure everything is working for me and makes adjustments as needed. I always look forward to coming in for an appointment!
Professional-I felt completely at ease during blood draw-easy to talk to
Professional-pays attention to detail-friendly-service was relaxing
Very friendly and knowledgeable . Attentive and paid close attention to details .
Again excellent care . More than 5 stars 💫
Amazing . So knowledgeable and friendly . She preps you as she goes through every step that she going to do next .
Christina is awesome. She is very knowledgable and easy to be around. I feel very comfortable working with her.
Emily is amazing! I trust her 100%
Its was my first time having Ulthera, so I was a little nervous, but Dr Roche answered all of my questions- it was quick and easy!
Dr Roche and staff always take such great care!
Dr, Roche and her team never fail to make every visit exceptional. From the warmth of the staff when you arrive in her lovely calming office through your treatments, there is nothing that is not perfect. This is a team that obviously love what they do and want to make certain that your visit becomes a positive experience. Great results every time. Thank you so much.
Dr. Roche and her staff consistently provide outstanding service. Dr. Roche is an exceptionally skilled physician, with an artful eye. She strives to create a beautiful, natural appearance, so that you never leave looking like you just had work done.
The team at the spa always makes me feel as a valued client. Everyone is professional and very engaging. From those greeting me at the front desk to the esthetician who does a phenomenal job every time, and is very knowledgeable about the treatments and products.
I drive 50 miles round trip to visit Dr. Roche's office. Need I say more?
I wouldn't go anywhere else… I look 10 years younger every time I leave her office. She is very knowledgeable and a true artist! Not to mention personable, warm and comforting.
My cousins! When I walk in and see everyone, it feels like my family is greeting me. I truly think the warmth and personal attention in this office is the best! Plus I leave feeling better about my appearance. Plus/ Plus!
Dr. Roche and her team are fabulous. I am so happy I found this spa.
Coming to the Elizabeth Roche MD MedSpa is always a great experience. Everybody is so warm and welcoming. All my thanks always to Emily, she does great work.
Thank you so much for making me look pretty. Thank you for always being so nice and kind. Your gentle touch and beautiful smile always makes me feel so good. You are elegant and beautiful. Thanks for everything. Your staff is truly amazing.
Dear Elizabeth,
You provide a wonderful service in a beautiful tranquil setting and with the kindest, most helpful staff. Thanks for making my birthday that much more enjoyable.
At first I was nervous about receiving the Melanage Peel, but Dr. Roche and the entire team at Elizabeth Roche M.D. MedSpa were there to answer any questions I had during the entire treatment. The results were even better than I expected, and it has greatly helped my confidence. There is no other group of individuals who I'd select for this procedure. They exhibit an immense level of dedication and commitment to their patients, and this is obvious once you enter the medspa.
I am thrilled with your work!! I was so nervous…….you really are wonderful!
See you in 8 weeks.
I've always had a problem with losing inches in certain areas, despite diet and exercise. I didn't want to undergo major surgery and found out about mesotherapy. It sounded perfect – no surgery required and I can lose inches and cellulite in combination with proper diet and exercise.
I would recommend mesotherapy to anyone who is willing to commit to proper diet and exercise and needs just those last few inches off. I was able to lose over 20 pounds, several inches and went down 2 pant sizes on my way to the next size down. It's not a miracle, instant result but it does make the process appear more natural. I've gotten many compliments and look and feel better than ever.
I had laser hair removal on my arms, lip and chin. It was the best thing I ever did. I am not self conscience about my arms anymore. As for my lip and chin area, no more waxing or tweezing, no more bumps. I can leave my house without make-up and feel confident when my hair is up because I am not hiding my face. It has changed my life. Dr. Roche and her staff are all professional and friendly.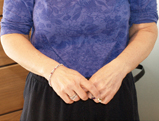 Dear Dr. Roche,
Like most women who want to remain looking good, I was no exception. So when it was time for a little help, I came to you, Dr. Roche, for the occasional fillers. Your work on my face is amazing, an absolute perfection and totally painless. The change to my face is subtle, yet you captured and achieved the look I sought.
I praise your commitment to excellent care, your artistic work and your friendly and supportive staff to everyone I know and to anyone who compliments my skin or how I look. Of course it helps to stay out of the sun and have great genes!
I am sure all your satisfied patients, me in particular, agree we are very fortunate to have found you, Dr. Roche. I will always recommend you and your Med Spa.
Sincerely,
Dear Dr. Roche,
I have been your satisfied patient for the past 5 years. Your comprehensive approach to facial rejuvenation to restore (my) youthful appearance is legendary. You offer a variety of non surgical techniques and anti aging treatments to address the entire face and that factor appealed to me.
Your skilled hands and artistic work creates balance and symmetry and that results in a natural look for my face. I'm often mistaken for a woman 20 years younger, and of course, I just love it!!
Your staff is extremely nice and informative. I recommend you to all my friends, family and the women in my hair salon and will continue to do so.
Sincerely,
I am so pleased that a valued friend recommended Dr. Elizabeth Roche to me in 2008. Dr. Roche is dedicated professional who developed a practice devoted solely to medical aesthetics. As a result, Dr. Roche has extensive experience working with the latest technologies and techniques. She really listens to each patient as she develops an individualized program of treatment applying the most current procedures and products in innovative ways to achieve the best results. Dr. Roche's early training and experience in pain management distinguish her from others. Dr. Roche and her staff strive to keep patients comfortable prior, during and following procedures. All of this happens in the most beautifully appointed office. I highly recommend the Elizabeth Roche M.D. MedSpa.
Dear Dr Roche:
You're the best! You found a way to place the needles in such an area that the lower part of my lip is plumped up and awesome. Not one doctor has accomplished that on my mission.
I really appreciate that. Not only are you talented, but you have a wonderful bedside manner.
Bless you and your family,