Elizabeth Roche M.D. MedSpa in Bergen County New Jersey
About Dr. Elizabeth Roche…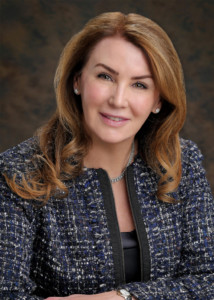 Thank you for visiting my website and taking time to know more about me. I am a board certified physician who has dedicated my practice entirely to medical esthetics.
Prior to my aesthetic practice, I practiced Anesthesiology and Pain Medicine. It was the years of treating patients, who suffered from pain, using injections of steroids, local anesthetics and neurotoxins that developed my skill as an injector. My eye for an aesthetic face came many years prior when I was an Elite Model back in my high school and college days.
I have been injecting Botox since 1998, when it was first used for other medical indications, such as pain control. In 2002, Botox Cosmetic was FDA approved for aesthetic purposes. It was in 2006 that I founded The Elizabeth Roche M.D. MedSpa and in 2007 that I opened the doors to my new office located in Woodcliff Lake, NJ. In addition to Botox, I have extensive experience in injecting dermal fillers. Being a highly skilled injector, I was an Allergan Trainer for many years, teaching other physicians and healthcare providers how to inject. (Allergan is the maker of Botox, Juvederm and Voluma). I am currently a trainer and educator for Galderma, the maker of Sculptra, Dysport and Restylane products.
Along with injectables, I offer the most advanced and latest anti-aging treatments, such as Ultherapy, mirco-needling, platelet rich plasma, and SculpSure in addition to the traditional treatments such as laser treatments, resurfacing, chemical peels and signature aesthetic treatments such as Hydrafacail-MD and dermaplaning.
I carry only physician grade skin care products, which are my own Elizabeth Roche MD private label product line.
I truly enjoy being able to make a difference in my patients' lives and how they feel about themselves. I regard the long term relationships that have developed with my patients as one of my greatest accomplishments and their recommendations to others as the greatest compliment to me.
I hope you found this brief introduction helpful and I look forward to meeting you to address your skin care needs and concerns.


Memberships & Societies
American Med Spa Association – Member since 2018
The American Board of Laser Surgery – Diplomate since 2017
The American Academy of Cosmetic Physicians – Associate Member since 2009
American Society for Laser Medicine & Surgery- Associate Member since 2007
The American Medical Association – Member since 1996
Training & Certification
The American Instititue of Aesthetic Medicine – Absorbable PDO Threads 2016
Polydioxanon (PDO) Sutures in Facial Rejuvenation – 2016
Cynosure – SculpSure Laser System 2016
AllerganMedical Facial Aesthetics Speaker Training Certification 2013
Ultherapy Training Certification 2011
SmartLipo Advanced Training Certification – SpaMedica International 2009
Laser Liposuction – Center for Accredited Healthcare Education 2009
Advance Training Combined Use of Botox & Dermal Fillers for Facial Enhancement – Aesthetic Advancements 2008
Advance Dermal Filler Training – Aesthetic Advancements 2007
Laser and Light Technologies – Medical Laser Dynamics, Inc. 2007
Certification of Training in Mesotherapy – Esthetic Skin Institute 2006
Certification in Sclerotherapy – Esthetic Skin Institute 2006
Certification of Chemical Peeling and Microdermabrasion – Esthetic Skin Institute 2006
Certification in Laser and IPL – Esthetics Skin Institute 2006
Certification of Proficiency in the Sciton Profile Laser System 2006
Certification of Microdermabrasion – DermaMed USA 2006
Dermal Filler for Facial Aesthetic Treatments – Aesthetic Enhancement Institute 2006
Botulin Toxin for Facial Aesthetic Treatments – Aesthetic Enhancement Institute 2006
Education & Appointments
Columbia University – Assistant Professor of Anesthesiology 2001-2002
University of Pennsylvania – Fellowship in Pain Medicine 1999
Allegheny University of the Health Sciences – Anesthesiology Residency 1995-98
University of Pittsburgh Medical Center- Medical Internship 1994-95
State University of New York at Brooklyn – MD Degree 1994
New York Institute of Technology – Cum Laude Bachelor of Science – Biology 1988