Photorejuvenation / Intense Pulsed Light (IPL)
Achieve Flawless, Healthy Skin Without Down Time!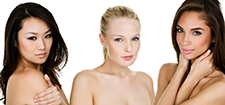 The Elizabeth Roche MD Medspa, in Bergen County, NJ, offers the most advance and broadest variety of IPL (intense pulse light) technology. We utilize the Sciton BBL (broadband light system) to deliver effective treatments for hyperpigmentation. This innovative technology also sets new standards for the treatment of skin conditions associated with aging, active lifestyles and sun damage. BBL broadband light allows us to precisely treat fine wrinkles, age and sun spots, small facial veins or broken capillaries, rosacea and redness, enlarged pores, freckles and several other skin concerns. At the Elizabeth Roche MD MedSpa your treatment will be tailored to match your skin's condition and your desired result.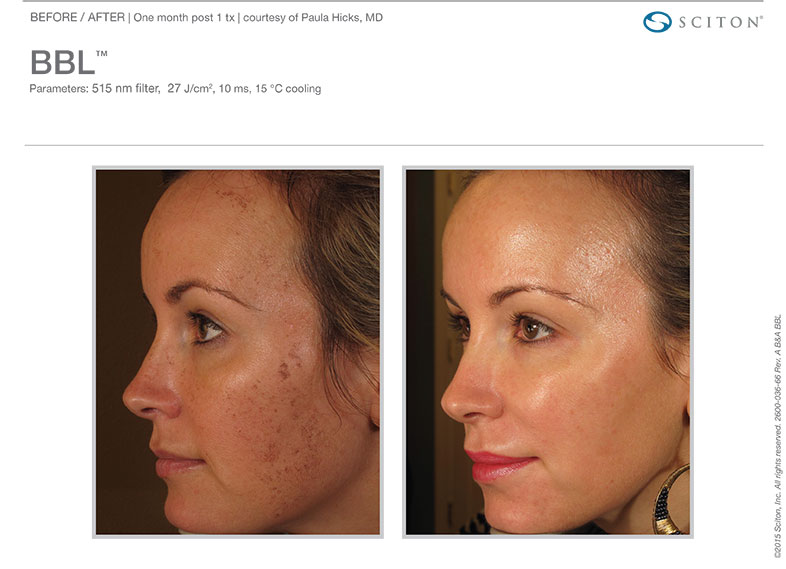 Photorejuvenation can restore your skin to its natural beauty, blending its natural colors, making it smoother, more vibrant and younger looking. By targeting the damage with our Sciton laser, you can have flawless, healthy skin without any down time!
Besides being effective on the face, it is also safe on the body: hands, back, chest, arms and legs are also treated with BBL. With the Sciton technology we are able to offer Skin Tyte. This is a BBL treatment which targets the collagen and stimulates new collagen production for skin tightening. In addition to being used on the face and neck it can be used on the abdomen, thighs and other parts of the body.
What conditions can be treated with BBL?
Age spots – Rosacea – Redness and Flushing – Freckles – Age Spots – Sun Damage – Fine Lines – Enlarges Pores – Birth marks – Brown spots – Port Wine Stains – Burn Erythema – Poikiloderma – Hyperpigmentation and more.
What is BBL broadband light?
BBL broadband light's innovative technology sets new standards for the treatment of skin conditions associated with aging and sun damage. Your treatment will be tailored to match your skin's condition and desired results.
Why should I consider BBL?
Groupings of pigments and vascular anomalies may fade over a length of time with prescription creams, but these conditions represent damaged skin and never completely disappear. While the damage can't be undone, using BBL we can target and treat these common skin conditions. Broadband Light is one of the recognized and powerful treatments so expect to see dramatic improvements in tone and texture. The BBL allows an equal amount of distributed fluence which is safe for skin.
How does BBL work?
The light energy delivered by the BBL will gently heat up the upper layers of your skin. The heat absorbed by the targeted areas will stimulate your skin cells to generate new collagen, thus helping restore your skin to it's natural beauty, blending it's natural colors and making it smoother, vibrant and younger looking. In addition the photothermal energy will target and eliminate many of the fine vessels that cause redness and the unwanted melanin response for pigmented lesions.
What will BBL treatment do?
BBL technology utilizes the power of pulsed light to deliver excellent results in photorejuvenation therapy. Your skin will be smoother, more vibrant and you will have a more youthful appearance as a result.
What areas can be treated?
Any area of the body can be treated. The most common areas are those most exposed to the damaging effects of the sun. The most popular treatments are for the face, neck, back of the hands, chest and shoulders.
How many treatments will I need?
From 2-5 treatments, at a 2 week interval, produce the desired results. You may require additional treatments depending on the severity of your condition.
How long will it take to recover?
This is a non-invasive and gentle procedure with virtually no down-time. You can go right back to work or to any planned activites.
What should I expect after the treatment?
You may experience some redness that should resolve within a few hours. For some pigmented lesions you will see a darkening of the treated areas followed by fading and flaking off at a later stage. Your treated skin will feel smoother, fine wrinkles and pores will be less noticeable, as will sun spots or uneven pigmentation. You can apply make up afterwards if you desire. Rarely some redness or swelling may occur which resolves in two to five days.
The benefits of the treatment after a full series is completed are long lasting.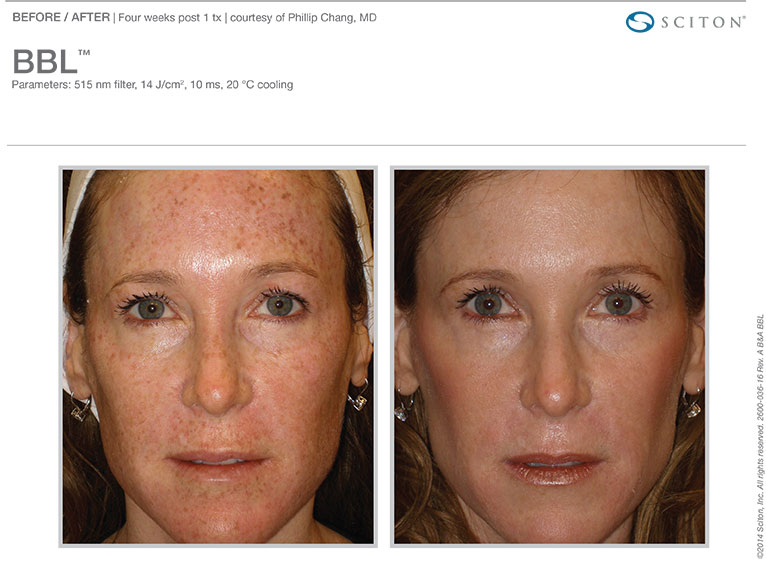 Other Recommendations…
3D Rejuvenation Package
Our 3 dimensional approach to restoring your complexion to a younger looking you combines a BBL Photorejuvenation, a MicroLaser Peel and a Skin Tyte. The three treatments target the multi layers of the skin that need repair, giving you flawless, tightened skin.