Photorejuvenation / Intense Pulsed Light (IPL)
Achieve Flawless, Healthy Skin Without Down Time!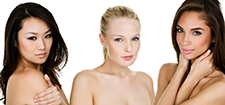 Dr. Roche offers the most advanced and broadest variety of IPL (intense pulse light) technology available at her medical aesthetics office in Bergen County, NJ. The Sciton BBL (broadband light system) delivers effective treatments for hyperpigmentation, and this innovative technology sets  the standards for the treatment of skin conditions associated with aging, active lifestyles, and sun damage.
BBL broadband light allows us to precisely treat fine wrinkles, age and sun spots, small facial veins or broken capillaries, rosacea and redness, enlarged pores, freckles, and several other skin concerns. Dr. Roche will tailor your treatment to match your skin's condition and your desired result.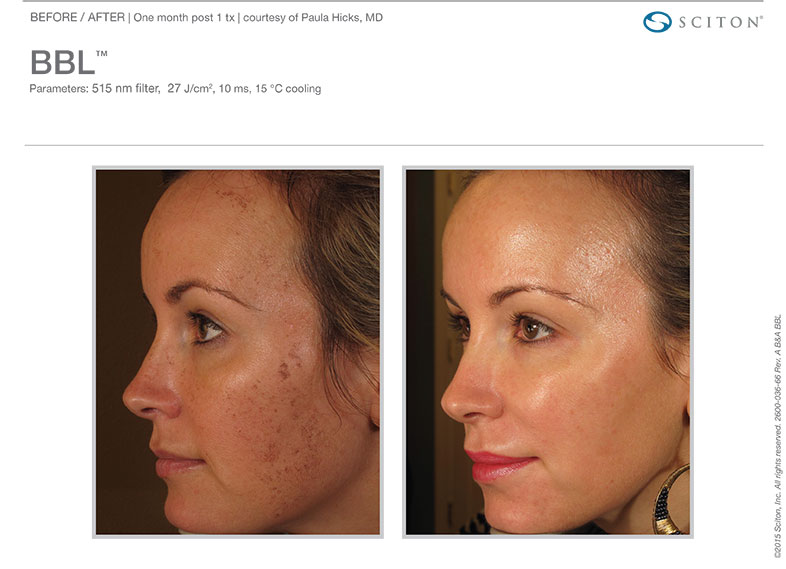 Photorejuvenation can restore your skin's youthful-looking appearance, blending colors and smoothing out imperfections, resulting in a  smoother, more vibrant, and younger look.
BBL is also safe on the body and works well for treating pigmentation problems on the hands, back, chest, arms, and legs. With the Sciton technology, we are also able to offer SkinTyte,  a BBL treatment that targets the collagen producing cells deep within your skin and stimulates the production of new collagen and elastin for smoother, tighter skin.
What conditions can be treated with BBL?
Age spots
Rosacea
Redness and flushing
Freckles
Age Spots
Sun damage
Fine lines
Enlarged pores
Birthmarks
Brown spots
Port wine stains
Burn erythema
Poikiloderma
Hyperpigmentation
Why should I consider BBL?
Groupings of pigments and vascular anomalies may fade over  with prescription creams, but these conditions represent damaged skin and will never completely disappear with over-the-counter treatments. While the damage can't be undone, by using BBL, we can target and treat common skin conditions. Broadband light is one of the most widely recognized and powerful treatments available, so patients can expect to see dramatic improvements in skin tone and texture.
How does BBL work?
The laser's photothermal energy will target and eliminate many of the fine blood vessels that cause redness and the unwanted melanin response for pigmented lesions thus helping restore your skin's natural color and texture.The light energy delivered by the BBL also gently heats up the outermost layers of your skin, which will stimulate your cells to generate new collagen.
How many treatments will I need?
Most of my patients require between 2-5 treatments scheduled 2 weeks apart, to produce the desired results. You may require additional treatments depending on the severity of your condition. I recommend maintenance treatments every 3 months.
How long will it take to recover?
This is a non-invasive and gentle procedure with virtually no down-time. Most patients  can go right back to work or to any planned activities.
What should I expect after the treatment?
You may experience some mild redness that should resolve within a few hours. For some pigmented lesions, you may see a darkening of the treated areas, followed by fading at a later stage. Your treated skin will feel smoother, fine wrinkles and pores will be less noticeable, and sun spots or uneven pigmentation will fade. You can apply makeup immediately afterwards if you desire.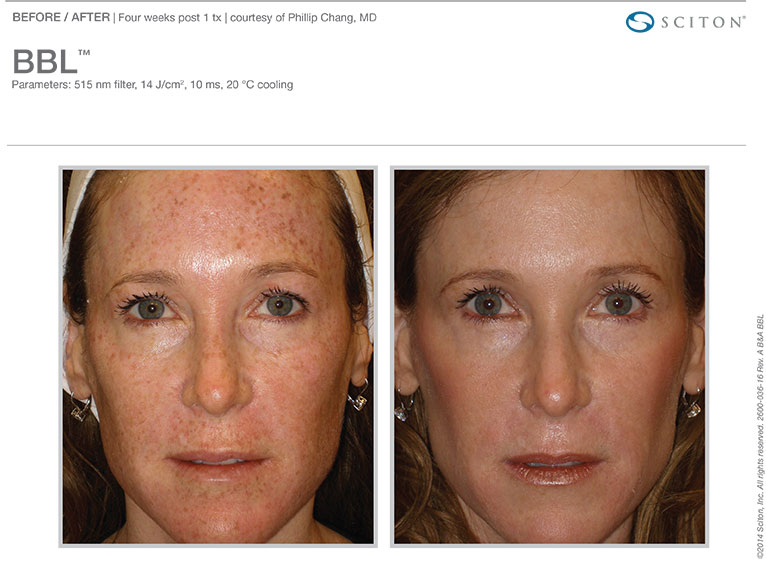 Other Recommendations…
3D Rejuvenation Package
Our 3 dimensional approach to restoring your complexion to a younger looking you combines a BBL Photorejuvenation, a MicroLaser Peel and a Skin Tyte. The three treatments target the multi layers of the skin that need repair, giving you flawless, tightened skin.