Botox Treatments
An Effective Non-Surgical Treatment That Smooths and Relaxes Facial Muscles.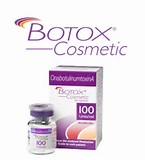 BOTOX® Cosmetic is a purified protein that reduces muscle activity, which causes frown lines,crow's feet, and lines on the forehead.
A simple, non-surgical Botox treatment in New Jersey with Dr. Elizabeth Roche, M.D. can temporarily smooth out moderate to severe frown lines between the brows, on the forehead, and around the eyes.
Treat Glabellar Lines & Crow's Feet With Botox
If you're looking to reduce wrinkles in the area between your brows (known as the glabellar lines), Dr. Roche and her staff can help you learn more about BOTOX® Cosmetic, so you can find out if it's right for you.
BOTOX® Cosmetic is approved by the Food and Drug Administration (FDA) for the temporary improvement of moderate to severe frown lines between the brows. BOTOX® was also approved by the FDA to treat moderate to severe canthal lines, otherwise known as crow's feet.
One 10-minute BOTOX® treatment of a few small injections in the desired area will result in a noticeable improvement of moderate to severe frown lines between the brows or around the eyes within days. While the duration of these results may vary, they generally last up to 4 months.
Are the years putting lines on your face? Maybe it's time for BOTOX®.
Have your facial expressions begun to cause wrinkles on your forehead or crow's feet around your eyes? To maintain a long lasting, younger appearance, non-invasive cosmetic therapies and injections are often the treatment of choice. Wrinkles form over time with the repeated use of facial muscles. When BOTOX® is injected into targeted muscles with a fine needle, the botulinum toxin simply inactivates those muscles, preventing the skin from being bunched up with different facial expressions.
BOTOX® can help repair deep lines,wrinkles, and visible signs of stress and aging due to squinting, laughing, frowning, smoking, and anxiety.
BOTOX® – The most popular anti-wrinkle treatment today.
BOTOX® is the fastest growing anti-wrinkle treatment available. Since its FDA approval in 2002, BOTOX® Cosmetic has become one of the most popular aesthetic treatments, , with millions of procedures since it was first introduced.
The BOTOX® Treatment
A BOTOX® treatment typically takes approximately 10 minutes. While it's usually not necessary to anesthetize the area to be treated due to the injection's minimal discomfort, we do offer a topical anesthetic for patient comfort during the procedure. BOTOX® is then injected into the affected area with a very thin needle.
BOTOX® causes the muscles to relax, which reduces the appearance of undesirable wrinkles and lines on the skin. The results of a BOTOX® treatment may be seen in as little as 10 days and may last from 3 to 4 months gradually fading away over this time. Your next treatment should be scheduled before the effects completely fade away.
More Information About Botox
Get the Facts about BOTOX®
Don't hesitate to call or email our office at  201-505-1020 with your questions about BOTOX®. We're located in Bergen County, New Jersey, near  New York City, Rockland and Westchester Counties.