Juvederm
Juvederm Injections Restore Volume and Fullness in Skin and Lips
Safe & Effective / Minimal Downtime / Immediate Results
What is Juvéderm™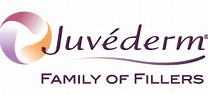 Juvéderm™ is an FDA-approved cosmetic dermal filler made from hyaluronic acid—a naturally occurring substance in your skin that helps to hydrate and add volume. Hyaluronic acid may diminish with age and over time contribute to the formation of wrinkles and folds. Juvéderm™ injectable gel works to correct this by restoring hyaluronic acid in your skin, helping to treat superficial lines, wrinkles and folds and diminish those "Parentheses Lines" on the sides of your nose and mouth.
Juvéderm™ dermal filler restores volume and fullness to the skin to correct facial wrinkles and folds, giving a smoother, more youthful appearance.
What makes Juvéderm™ injections different?
Juvéderm™ dermal filler employs its unique manufacturing process to provide the highest concentration of cross-linked hyaluronic acid of any currently available hyaluronic acid dermal filler for long-lasting results. This advanced manufacturing process also works to create a smooth consistency gel that flows easily into the skin during the injection process and provides a smooth, natural look and feel—so everyone will notice (but no one will know!). Juvéderm™ injectable gel is the only filler available with this smooth consistency gel—other existing hyaluronic acid dermal fillers are made of granular consistency gels.
Juvéderm™ has two formulations. Which one will I need?
Dr. Roche will be able to determine which of the two Juvederm dermal fillers you will need after your consultation and examination of your concerns.
Juvéderm™ Ultra is used for versatility in contouring and volumizing facial wrinkles and folds. Juvederm Ultra is less dense and more appropriate for light to medium depth wrinkle correction, such as mild nasolabial folds, lip augmentation, forehead wrinkles, glabellar lines, obvious mild to moderate nasal furrows and cheek wrinkles
Are Juvederm™ Injections Safe?
Yes. In fact, Juvederm is FDA approved and is a hyaluronic acid dermal filler that has demonstrated its safety and effectiveness in patients of all skin types and colors. Juvederm dermal filler does not require a skin test, as no allergic reactions are expected.
Can people with different skin tones be treated with Juvederm dermal filler?
Yes. In fact, Juvéderm™ injectable gel is the first FDA-approved hyaluronic acid dermal filler that has proven its safety and effectiveness in persons of color. Studies with Juvéderm™ injections showed no increased risk of hyperpigmentation or hypertrophic scarring in patients of color.
Who shouldn't use Juvéderm™?
You shouldn't use Juvéderm™ if you have severe allergies manifested by a history of anaphylaxis or a history or presence of multiple severe allergies. Juvéderm™ dermal filler contains trace amounts of gram positive bacterial proteins and is contraindicated for patients with a history of allergies to such material.
What should be done prior to Juvederm® treatment?
It is recommended to arrive for your Juvéderm™ dermal filler appointment with a clean, cleansed face without make up.
Avoid taking aspirin or ibuprofen both of which can increase bleeding or bruising at the injection site.
Avoid alcohol as this can increase chances of bruising and bleeding.
How soon will I see results from my Juvederm™ dermal filler treatment?
Results are immediate and natural. You will see a visible improvement immediately after your Juvéderm™ treatment. Most patients need one treatment to achieve optimal wrinkle smoothing, and the results last up to 6 months or more. However, results may vary and correction is temporary. Supplemental "touch up" treatments may be required to achieve and maintain optimal results. One treatment can include anywhere from one to ten syringes to achieve your optimal goal.
One to two weeks after your Juvederm dermal filler injection, Dr. Roche will have you scheduled for a follow up to evaluate your results at our office in Bergen County, NJ.
Are there any potential side effects?
Side effects of your Juvéderm™ injections may include slight bruising, redness or swelling. Most side effects are mild or moderate in nature, and their duration is short lasting (7 days or less). The most common side effects include, but are not limited to, temporary injections site reactions such as redness, pain/tenderness, firmness, swelling, lumps/bumps, bruising, itching, and discoloration. As with all skin injection procedures there is a risk of infection.
What should I do immediately after Juvederm treatment?
Refrain from vigorous exercise until the following day. Other than that you can return to your normal activities. Do not touch or manipulate the area which was injected.
If you would like to schedule a consultation with Dr. Roche to discuss Juvederm dermal filler, please call 201-505-1020 or come visit our office in Bergen County, NJ.