Sculptra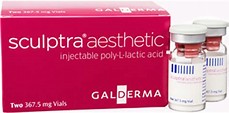 Sculptura Aesthetic is an incredible product known as the "liquid face lift" that stimulates your body to replace lost collagen and dramatically improve skin tone. It is especially suited to lift and plump sunken cheekbones and the hollows of the face, creating a more youthful, vibrant look. Sculptra can be used alongside other dermal injectables, or alone to smooth moderate-to-deep facial lines and folds.
You can also use Sculptra to create fuller buttocks, and to smooth out cellulite dimples on the thighs and buttocks.
The active ingredient in Sculptra Aesthetic is poly-L-lactic acid, the same material used in dissolvable sutures. Sculptra is injected deeply into the skin, which reacts to the injection by creating collagen around the poly-L-lactic acid. The poly-L-lactic acid, like dissolvable sutures, biodegrades within the body, leaving the new, firm collagen behind. The collagen lifts and plumps wrinkles, rejuvenating the treated area. Thanks to the new collagen growth, the surface of the skin can also take on a fresh, healthy glow.
Because Sculptra works to stimulate your body's natural collagen growth, a series of injections are recommended for best results. Most patients need two to three injections, spaced approximately six weeks apart. Results are gradual, subtle, and beautifully natural – a benefit patients appreciate. Sculptra is exceptionally long-lasting, particularly with 'booster' injections. Patients typically experience results lasting more than two years, lasting two-to-three times longer than other injectables.
Dr. Roche of Bergen County, NJ can create high, defined cheekbones with Sculptra, plump sunken areas of the face, lift jowls, and improve crepey skin. Sculptra is the ideal injectable for patients who prefer natural, visible results that emerge gradually and last for years.