Microdermabrasion for Younger, Healthy-Looking Skin
Improve or eliminate superficial skin problems with microdermabrasion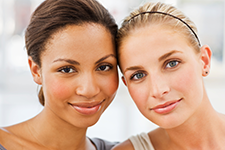 Microdermabrasion is a non-chemical and non-invasive aesthetic procedure that removes the outermost layer of dry, dead skin cells to reveal younger, healthier-looking skin underneath. Microdermabrasion treatment also encourages the production of a new layer of skin cells that contain higher levels of collagen and elastin, both of which help to further improve your skin's appearance.
Questions about Microdermabrasion?
Microdermabrasion Treatment FAQs
Microdermabrasion produces results on all skin types and colors
Microdermabrasion works on all skin types and colors to produce subtle improvements, without causing changes in skin color or scarring. That said, microneedling is less effective for problems like stretch marks, keloids (an overgrowth of scar tissue), or deep acne scars. Microlaser peels are typically recommended  for these types of skin problems instead. Microdermabrasion is a non-surgical procedure, so there are little to no risks.
Microdermabrasion for the body
Microdermabrasion can be used to polish and refine the skin all over the body. Just like microdermabrasion is used on the face to diminish the appearance of lines, wrinkles, superficial scars, and discoloration, it can also be used effectively on the entire body surface to achieve similar results.
Microdermabrasion can help smooth out rough surfaces on the elbows, knees and heels, or anywhere else skin is dry or rough. Patients who undergo body microdermabrasion enjoy the same benefits of facial microdermabrasion treatments.
Preparing For Your Microdermabrasion Treatment
Microdermabrasion has almost no pretreatment requirements. If you are a smoker, you should ideally  stop smoking for about a week before your treatment , in order to improve the circulation of blood to your skin.
If you are using Retin-A, Renova, Differin, or certain glycolic acid products on a daily basis, you should stop for about five days before your appointment. You should also avoid sunbathing, using sunbeds, or waxing your skin for two weeks prior to treatment to lessen any sensitivity your skin may experience.
What To Expect During the Procedure
Microdermabrasion treatments in our Bergen County, NJ medical aesthetics office last less than an hour and are performed on an outpatient basis. The area to be treated will be cleaned and  sterile micro-crystals will be used to gently exfoliate your skin.
The pressure of the microdermabrasion machine is adjusted for your specific  needs as your technician moves the handpiece across the treatment area to thoroughly abrade the skin's surface. The sloughed off skin cells are then suctioned off to reveal fresh, vibrant-looking skin.
Initial Microdermabrasion Benefits are Immediate
Usually, benefits from microdermabrasion treatments are immediately apparent, resulting in smoother, softer, and clearer skin. However, optimal results will not be visible until all recommended treatments have been completed. The number of treatments required typically ranges from five to twelve sessions spaced a week or two apart.
Minimal Risk of Side Effects
Because microdermabrasion is non-invasive, it has a low risk of complications and is one of the safest skin rejuvenation procedures available. Some patients report mild redness or dry feeling in their skin after a treatment, but this is temporary. Typical care following your microdermabrasion treatment includes the use of moisturizers and sunscreens, and it's recommended that you avoid sun exposure for a few days.
Book Your Microdermabrasion Consultation Now
To book a consultation at our Bergen County, NJ office to find out if microdermabrasion is right for you, call Dr. Elizabeth Roche M.D. at 201-505-1020.