Xeomin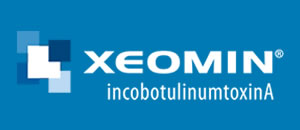 Over time, fine lines and wrinkles may start to show up around your eyes, forehead, and mouth. One area of concern that many patients struggle is deep folds that develop between the eyebrows, also known as frown lines. When the glabellar muscles contract repeatedly, they eventually create these lines. Xeomin® can help soften these frown lines and restore your inner confidence.
What is Xeomin?
Xeomin is a neurotoxin just like Botox and Dysport. It's medical name is incobotulinumtoxin A, which is a highly purified neurotoxin that blocks the chemicals that cause muscle contractions. Xeomin doesn't work like dermal filler, so it won't fill in wrinkles that are already present. Instead, it will immobilize select muscles to smooth out the skin.
To help with frown lines, Xeomin is injected into the muscles between your eyebrows. Since your skin develops frown lines due to repeated muscle movements under your skin, temporarily immobilizing these muscles will soften the look of frown lines, resulting in a more relaxed appearance.
How Long Does Xeomin Last?
Xeomin's results typically last between 3 to 4 months. It can also take about 10 days to show results. Your genetics, skincare routine, and lifestyle will play a factor in how well the medicine works and how long it will last.
Is Xeomin Right for You?
If you're interested in seeing a reduction in your frown lines, Xeomin may be right for you. Contact Dr. Elizabeth Roche at 201-505-1020 for a consultation today.