Chemical Peels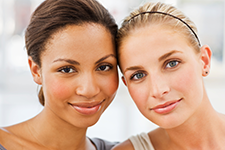 A chemical peel is an aesthetic procedure performed to achieve better skin tone and texture, and to remove fine lines, especially on the face. Chemical peels remove the outer layers of skin, which are damaged by age, sun, acne, wrinkles, or pigmentation problems. Removing the outer skin prompts the body to generate a new layer of skin cells. At The Elizabeth Roche MD MedSpa in Bergen County NJ, we have a peel for all skin types and skin tones, including darker complexions. Our formulas are tailored and customized to your individual skin care needs and your lifestyle.
At the time of your procedure, any active skin infection or acne needs to be under control in order to maximize results. There are several different types of chemical solutions which can be used. We offer glycolic, salicylic, lactic, retinoic and hydroquinone peels. Dr. Roche or our nurse will select what is best for you based on your skin condition, skin tone and desired result.
Reasons for Considering a Chemical Peel:
Reduce facial wrinkles and lines.
Improve sun-damaged skin.
Correct age spots and pigmentation problems.
Melasma
Lighten scars (especially from acne)
Achieve radiant, vibrant, healthy skin
What Peels Does The Elizabeth Roche M.D. MedSpa Have To Offer?
At The Elizabeth Roche M.D. MedSpa in Bergen County, NJ, we have a variety of chemical peels to choose from. Everything from Gentle Peels to Strong Peels. Below is a list of peels we offer:
The Elizabeth Roche MD Peels – All of our peels are medical grade and customizable to address your specific needs, goals and your available "downtime" or how much peeling you can tolerate.
Superficial Chemical Peels
Superficial peels are the lightest of all chemical peels. The superficial peel will smooth and soften your skin, brighten your complexion, minimize pore size and reduce discoloration.
We recommend our Illuminize Peel or DermaPeel for those patients that want a gentle peel that will illuminate their skin without the downtime.
Medium Strength Chemical Peels
Medium Strength chemical peels are highly effective in promoting skin smoothness and vitality, improving color, texture, skin tone, and fine wrinkles. Medium depth peels can be achieved with a variety of chemicals. Often glycolic acid, salicylic acid, and other agents are also used.
Medium peels may be repeated every three to six months for optimal results. Medium peels may be performed safely on people with olive and light brown skin.
We recommend our Vitalize Peel for those patients that want a medium strength peel with a few days of gentle exfoliation.
Strong Chemical Peels
For those patients who want a more aggressive and stronger strength peel, we recommend a series of The Elite Peels, or for stubborn pigment problems we recommend The Melanage Peel, now known as the Evanish Peel System.