Sustenance Serum
In our modern world, our skin is constantly fighting an uphill battle to stay healthy, free of disease, and remain looking and feeling great. Incorporating high-quality ingredients into our daily skincare regimens is extremely important, but how and with what can be confusing and is often misconstrued..
That is why I have developed my Sustenance Serum. 
Sustenance is the perfect everyday product to defend, brighten, and smooth all skin types. It even works synergistically with your retinol product to optimize your skin's appearance from the inside out! 
Sustenance Benefits:
Brightens the skin: Loaded with concentrated antioxidants, including the most potent form of green tea on the market, this serum reduces inflammation, redness, and uneven skin tone that may be caused by acne, sun damage, or other skin conditions.
The 1% lactic acid removes dead skin cells from the epidermis, keeping your face looking fresh, hydrated and even toned.
Defend against damage: the combination of Vitamin E, C, and Ferulic acid work as the perfect trio to defend against UV damage, environmental toxins, and accelerated skin aging.
By themselves, Vitamin E and C both prevent photodamage by defending against different types of UV rays. However, their combination is "more effective in preventing photodamage than either vitamin alone," according to the Linus Pauling Institute at Oregon State University. Ferulic acid further amplifies these benefits, by stabilizing the two antioxidant forms.
Together, these three ingredients easily penetrate the skin barrier to provide an arsenal of defense against skin damage, as they attack reactive oxygen species which cause fine lines, wrinkles, sagging skin, and increase the risk of developing cancer.
Smooths the skin by minimizing pore size: The green tea and AHA in this product increases cell turnover to reduce excess sebum production –– the oil that can trap bacteria to enlarge pore size and cause breakouts.
This product gently exfoliates the skin surface to rid of dead skin cells, keep the skin barrier free of germs and environmental toxins, and maintain pore integrity for an even, blemish-free complexion.
Ingredient Break-down:
The ingredients in this serum have strategically been put together to not only deliver a combination of benefits, but also amplify and strengthen the effect of each other.
This serum contains Vitamin C, Vitamin E, Ferulic Acid, AHA in the form of Lactic acid, and Green Tea extract –– that's it! No added fillers or buffers to dilute the concentration of these ingredients or irritate the skin as most drugstore products contain.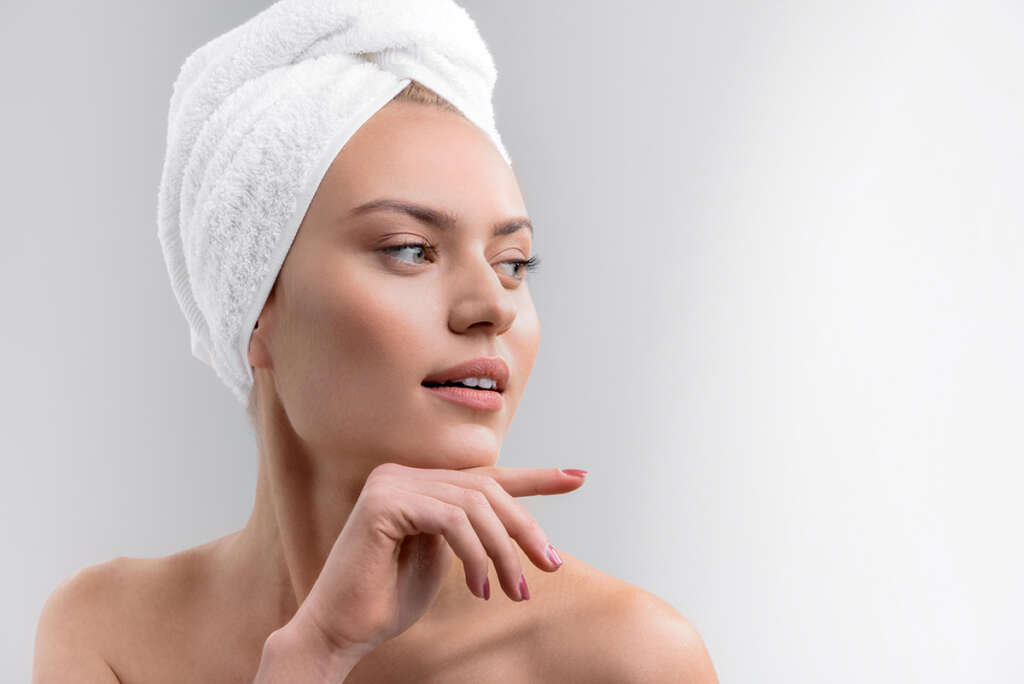 Vitamin C: As an antioxidant, vitamin C has many important functions in maintaining healthy, radiant skin. Mainly, it offers photoprotection, skin smoothing, healing, reduces inflammation, and helps control oil production when produced correctly.
I use an ester form of vitamin C in this product, which is more stable and less irritating than its counterpart, L-ascorbic acid, found in many other vitamin C products. L-ascorbic acid also requires a fatty alcohol molecule to transport across the skin barrier, and therefore, can't be absorbed as readily, and has decreased ability to enhance collagen synthesis.
Because of the specificity required to deliver all the benefits of this powerful antioxidant, this serum delivers high potency, at 21% concentration, and the highest quality form of vitamin C.
Vitamin C protects against sun damage by clearing free radicals caused by UVB rays. It also helps repair any DNA damage, which reduces the risk of cancer development. When the skin is exposed to UV rays, the body also uses vitamin C as fuel to increase cells in the epidermis called "keratinocytes," that help shield our outermost skin barrier from damage.
Vitamin C is normally found in the epidermis (the outer layer of the skin), and the dermis (the middle layer of the skin), although its concentration decreases with age and UV damage. It is important to maintain levels of vitamin C in the skin, as it also is needed in the synthesis of collagen, making it critical to keep the skin smooth and wrinkle free.
Vitamin E: As an oil-soluble antioxidant, vitamin E is unique in that it comes in 8 forms. In skincare, the vitamin E "tocopherol" is the key ingredient used to provide two main benefits. It not only combats free-radical damage like vitamin C, but it also is extremely hydrating to the skin.
Because vitamin E is oil-soluble, it can penetrate deep into the layers of the skin. Here, it works both as a "humectant" and a "emollient", meaning it absorbs and traps water to lock-in moisture.
These properties make it a key ingredient to manage and repair a wide range of skin disorders, from sun damage to acne to scar healing.
Vitamin E works as a superhero vitamin to upgrade your skin health and appearance, although it works more effectively when paired with vitamin C.
Ferulic Acid: An antioxidant that helps boost and stabilize the effect of other antioxidants, particularly vitamin C and E.
It also maintains the skin's appearance by fighting off free radicals and reducing the development of fine lines, sun spots, wrinkles, and saggy skin.
Green Tea: Now take all the benefits mentioned for vitamin C and E and multiply that effect 25 -100x. That is the antioxidant power of the polyphenols found in green tea when used in skincare, making it an anti-inflammatory, antioxidant, and anticarcinogenic powerhouse.
I use the most biologically active form of green tea, Epigallocatechin Gallate (ECGC), delivering the highest level of benefit.
EGCG helps combat acne and oily skin by reducing excess sebum production (the oil that clogs your pores) that can lead to breakouts. Additionally, it also prevents UVB light-induced skin disorders such as cancer, sun spots, and accelerated signs of aging by protecting skin cells from DNA damage.
1% Lactic Acid: As a water-based AHA, it acts as a gentle chemical exfoliant to increase cell turnover, resulting in radiant, youthful looking skin. By removing dead cells stuck on our skin's surface, lactic acid helps decrease pore size, control oil production, and prevent breakouts.
Within the dermis of the skin, it also stimulates collagen production to reduce fine lines and wrinkles. AHAs also improve glycosaminoglycan synthesis, an important protein in the dermal matrix where collagen is made.
We chose to incorporate lactic acid rather than other AHAs for two reasons:
Lactic acid is unique as it also assists in ceramide production. Ceramides are lipids that help maintain skin cell structure in the epidermis by acting as a glue between skin cells. They are important in preventing bacteria and germs from entering the body. Like collagen, ceramide naturally decreases with age. Regular use of Lactic acid helps prevent this decline and maintain the skin barrier.
Lactic acid is made from the lactose sugar found in milk. It is present in the body as a natural moisturizing factor, which means it has hydrating properties. This makes it an excellent choice as a chemical exfoliant, as it won't be too harsh on the skin, and compliments the acidity of the other ingredients.
How to Use Sustenance Serum:
After the product is absorbed, follow-up with a good moisturizer to lock-in the effects of the serum. I recommend my Clarifying Hydrator or Quench Intense Moisturizer for drier skin types.
Alternate using this product with my   to boost the retinol's effects without over-irritating the skin.
Where My Products Come From:
My products are manufactured in the US based company who only works with licensed physicians in cosmetic, plastic surgery, and dermatology practices. They are developed in a US lab in small batches in a state of the art facility.
To learn more about how our products can benefit your individualized skin-type, call 1-201-505-1020 to book a consultation with our skilled staff!