Restylane Refyne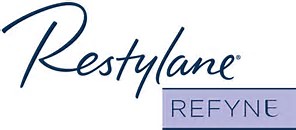 The movement of facial muscles through common actions like laughing and frowning, as well as the natural process of aging, make wrinkles and fine lines inevitable. But you don't have to live with what you don't like – with today's advanced dermal filler technology, you can look as young as you feel inside. Dermal fillers help to smooth out fine lines and stimulate your body to produce more of its own natural collagen, giving you the appearance of plusher, more supple skin.
Restylane® Refyne can help treat mild to moderate marionette lines, laugh lines, and crow's feet. Here's what to know about this treatment and how to schedule an appointment for a consultation to discuss your aesthetic goals and available options.
How Does Restylane® Refyne Work?
Restylane® Refyne is an injectable dermal filler infused with XpresHAn Technology™, a component that smooths out wrinkles in a more subtle way than other similar dermal fillers. This product is designed for areas that have more movement and need more flexibility. Fine lines and wrinkles are softened and kept elastic, giving you a natural look.
The main ingredient in this filler is hyaluronic acid, a natural component in your skin that accomplishes two tasks. First, your fine lines and wrinkles will be immediately filled in, instantly improving your appearance. Second, the hyaluronic acid goes to work to stimulate your skin's ability to attract fluid and moisture, which keeps your results looking great for several months.
Is Restylane® Refyne Safe?
Restylane® Refyne is a safe dermal filler that is compatible with nearly every skin type. It's best suited to treat nasolabial folds and marionette lines, as opposed to glabellar (frown) lines. In these cases, Botox or another similar neurotoxin may be better suited.
When you arrive at my office for your consultation, I will consider other treatments that may be done in conjunction with your dermal filler to create a natural, refreshed look that doesn't appear as though you've had any cosmetic work done.
How Long Does Restylane® Refyne Last?
On average, this dermal filler can last from 9-12 months. Since this a hyaluronic acid filler, your body will naturally break it down over several months' time. For maximum results, you should repeat treatments approximately every year to keep fine lines at bay and look your very best.
Is Restylane® Refyne the Right Choice for You?
Restylane® Refyne can help smooth out mild to moderate marionette lines and deep nasolabial folds. It's safe, effective, and can be combined with other treatments elsewhere on your face for a lasting youthful appearance. Dermal fillers like Restylane® Refyne are an excellent choice for many of my patients. Contact my office today at 201-505-1020 to schedule your consultation appointment at my convenient New Jersey location.