Facial serums are everywhere, especially online. Skin serum is an important part of your beauty routine, but does it really work? How do you know what's in the bottle you're buying? Is there a better way to find the best face serum for your skin? Here's what you want to know.
What Is Serum?
Skin serums are lightweight moisturizers that can be applied after cleansing the skin and before using a traditional moisturizer or putting on makeup. Many facial serum formulas contain special ingredients to brighten skin or reduce the appearance of tired eyes or fine lines and wrinkles.
What Does Face Serum Do?
A good quality skin serum is designed to provide essential nutrients and moisture to the delicate skin of the face. Because serums typically contain a higher concentration of critical ingredients, they can be powerful tools in your skincare arsenal.
A hyaluronic-acid serum, for example, can deliver essential moisture to dry, flaky skin. A serum with vitamin C as a primary ingredient can brighten dull skin and reduce the appearance of sunspots and other pigmentation irregularities.
How Does Skin Serum Work?
As your body's largest organ, skin is naturally porous and designed to absorb moisture from its environment. While the innermost layer of the skin — the dermis — protects your body from the majority of environmental substances and toxins, the outermost layer is quite permeable. This is called the epidermis, and is made up of keratinized epithelial cells that are dead or dying.
These cells do a good job of soaking up moisture, vitamins, and nutrients, which are then delivered to the middle layer of the skin, called the hypodermis. The hypodermis is a layer of largely fatty and connective tissue, which over time becomes thinner as you age. Serums can deliver moisture to this layer of the skin, helping it to stay plump and firm.
What is the Best Face Serum?
The best face serum will differ from person to person. Each individual has a unique skin type, and not all serums will offer the same results for everyone. It's important to choose a skin serum developed for your specific needs, whether you struggle with dry skin, fine lines and wrinkles, or dull, dark circles under your eyes.
Over-the-counter facial serums often seem like a convenient, economical choice. However, drugstore skin serums are frequently weaker than physician-formulated products. They may not contain as much of the same ingredients due to FDA regulations, and often lack essential ingredients altogether. My products have been created in collaboration with a brillant Yale chemist who uses proven scientific data to determine each ingredient in just the right amounts. The end result of this collaboration are formulated products that I hope you will love!
At Elizabeth Roche, MD Medspa, I offer a wide variety of products, including serums, designed for many different skin types.
Hyla-Peptide Serum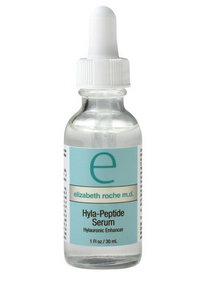 My Hyla-Peptide Serum is specifically designed to deliver lightweight moisture in an oil-free gel. Can be worn under sunscreen, makeup, or a heavier moisturizer for individuals with drier skin. Appropriate for all types of skin.
Retinol 50 Night Serum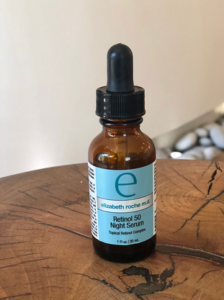 My Retinol 50 Night Serum is microencapsulated to provide sustained retinol release throughout the night, which can decrease the temporary skin redness and irritation that is common with retinol usage. Preservative, fragrance, and paraben free, this serum reduces uneven skin pigmentation, increases the production of collagen, and reduces the look of fine lines and wrinkles.
Sustenance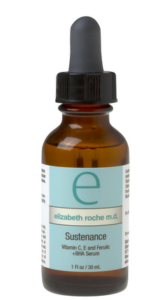 My Sustenance serum is a silky antioxidant serum with a proprietary blend of vitamins C and E, paired with ferulic acid and green tea to enhance penetration and improve the skin's overall appearance. Perfect for normal to oily skin.
Get Younger, Healthier-Looking Skin with Physician-Formulated Skin Serum at Home
Your skin deserves top-quality products and formulas designed for you. I take pride in developing skin serums, moisturizers, sunscreens, and cleansers that will make you look and feel great in your own skin.
You can order any of my products and have them shipped directly to you by calling our office Monday through Friday, 9:00 a.m. to 5:00 p.m. EST at (201) 505-1020.