Under eye circles and puffiness can make you look tired, stressed, and worn-out. While cosmetic procedures are highly effective at reducing the look of sleepy eyes and dark under eye circles, there are other options available to help you get rid of tired eyes in the comfort of your own home. Here's what you need to know.
What Causes Bags Under Eyes?
Aging is the most common cause of bags under the eyes. As you get older, the tissues surrounding your eyes tend to weaken over time. This includes skin, collagen, fat, and muscles that support the eyelids. Fat that is normally distributed around the eyes moves down to the lower eyelids with gravity, resulting in the appearance of heavy bags under the eyes.
Fluid may also accumulate in the space underneath your eyes, causing eyes to appear swollen. Typically, under eye bags are a cosmetic nuisance and are rarely an indicator of any serious or underlying health condition.
What Causes Dark Circles Under Eyes?
Both men and women can suffer from the appearance of dark circles underneath the eye. These are often accompanied by bags of fluid or fat in older individuals, but people of any age can experience dark under eye circles. There are many causes of dark circles under eyes, including but not limited to:
Fatigue or oversleeping. Not enough sleep, or even too much, can result in dull, pale skin that makes blood vessels underneath your eyes to become more apparent.
Puffy eyes. If your eyes are swollen or puffy due to lack of sleep or other conditions, they may be casting a shadow on your lower lid, making it appear as though you have dark circles underneath your eye.
As skin becomes thinner with age, the loss of fat and collagen underneath the eye can cause blood vessels to show through.
Not getting enough hydration can cause your eyes to appear sunken in, dark, and hollow, especially when dehydration is severe.
Allergies and sensitive skin. Common seasonal allergies and sensitive skin are a frequent cause of both puffy eyes and dark circles underneath them.
Some individuals inherit a harmless condition called periorbital hyperpigmentation, where the body has a larger concentration of melanin cells underneath the eyes that cause them to appear darker than the rest of the skin.
Do Home Remedies for Bags Under Eyes Actually Work?
Many people choose to treat tired-looking eyes at home with various remedies. Cucumber slices are a popular choice, as are over-the-counter gels, creams, and serums.
Cucumber slices may not hold the "magic seeds" to help long term, but anything cold can shrink the capillaries (small blood vessels) underneath your eyes, temporarily decreasing the look of dark circles and puffiness and cucumber slices happen to fit nicely.
Over-the-counter options typically sold in drugstores may sometimes have a slight positive effect on the appearance of under eye bags and dark circles, however, many of them don't contain enough of the critical ingredients your skin needs, or in the correct combinations. This means that while some people may notice minor improvements, others may not.
Getting rid of tired eyes at home effectively requires the use of products designed to rejuvenate and refresh your skin with the right combination and amounts of specialized ingredients like retinol, ceramides, peptides and plant extracts.
I recommend developing a beauty routine designed for your individual skin type along with using temporary remedies like cold compresses for a "quick fix" when you need one.
Our Solution for Treating Tired Eyes at Home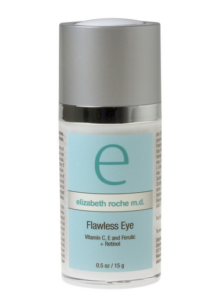 Flawless Eye is my under eye treatment formulated specifically to reduce the appearance of bags and dark circles. It contains a high-potency combination of clinically-proven ingredients designed to improve the appearance of the delicate skin around the eyes.
Flawless Eye contains a proprietary blend of vitamins C and E, retinol, cholesterol, and goji berry, green tea, and evodia rutaecarpa extracts for maximum efficacy. Retinol has scientifically shown to help with fine lines and Flawless Eye has just the right amount of it to make a change without being too harsh.
Enhance Your Skincare Routine with Physician-Crafted Formulas
My products have been specially formulated with only the highest quality ingredients to deliver results you simply can't get with traditional over-the-counter products. Healthy looking and feeling skin is an integral part of your overall mental health and wellness, and my office is committed to helping you achieve physician-level results without a trip to the office.
You can order any of my products and have them shipped directly to you by calling our office Monday through Friday, 9:00 a.m. to 5:00 p.m. EST at (201) 505-1020.